Phantom 4 Leader of the Pack
We reviewed the Phantom 3 a year ago as a generational leap in consumer drone offerings. DJI has leapfrogged the competition again and blown their own predecessor out of the skies with the Phantom 4.
Whether you're looking for your first drone or want to get into semi pro aerial photography, the Phantom 4 claims to be the answer to all. Andy Willmott got his hands on one of the first units to find out what the buzz is about.
One version for all
DJI has made the choice simple this time around. With the Phantom 3 there were three choices between standard, advanced or pro. This time there is only one choice - The Phantom 4, which does it all.
And I mean literally does it all. There is no other consumer drone on the market that comes near the feature list of the P4.

In the box
As with previous versions, DJI provides you with everything you need bar a smart device. Either a phone or tablet running IOS or Android will do.
The P4 comes delivered in a pretty cool travel box, too. It's made from foam rather than plastic, so it's not ultra durable but it's compact and neat, good for storage and throwing in the back of the car.
What's new?
The amount of new features in the P4 is an indication of how fast-moving the drone industry really is. Remember consumer drones have only been available in Ready To Fly models for a few years now.
We reviewed the Phantom 3 a year ago as a generational leap in consumer drone offerings. DJI has leapfrogged the competition again and blown their own predecessor out of the skies with the Phantom 4.
Whether you're looking for your first drone or want to get into semi pro aerial photography, the Phantom 4 claims to be the answer to all. Andy Willmott got his hands on one of the first units to find out what the buzz is about.

The Airframe
The body itself is more refined and streamlined for better aerodynamics with a shiny gloss white finish. In fact, all the accessories are shiny white too, so much white as you would be forgiven to think it was an Apple product. Components that hung below the frame in previous models have been brought into the main housing. It's a very neat package. The props have a new, more secure quick release mechanism, rather than the old screw on props.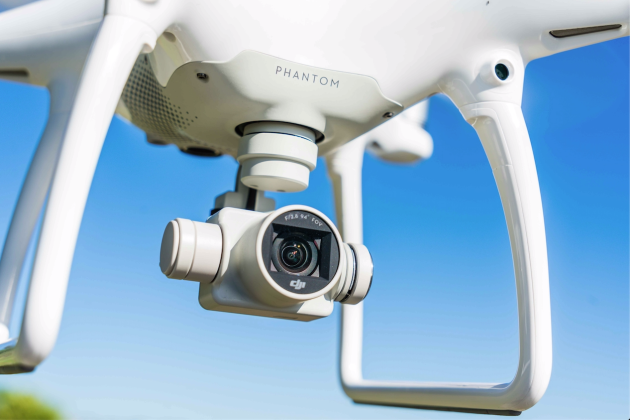 The camera
The gimbal now holds the camera more firmly from both sides. The camera itself has lots of subtle improvements such as improved optics and even less lens distortion. The capture specs are as good as you can get in a small drone camera these days - 4K video shooting at 25fps and 60Mbps, plus various other resolutions including 120fps in standard HD (1080p). Stills are captured in JPG and RAW up to 12MP. The lens gives you 94 degrees Field Of View and is equivalent to a 35mm format at F/2.8. Focus is fixed to infinity. Everything is captured to a removable MicroSD card max 64GB capacity. There is nothing you can fault with the setup here. For a consumer grade product, what you get out of this camera is exceptional.
Flight Controls & Performance
The Phantom 4 feels much easier and smoother to fly. As DJI has built in more intelligence into the software and improved algorithms, it responds better and feels more fluid.
In your basic default GPS flight mode [P]osition, the speed and amount of tilt is controlled to keep everything smooth, including the intelligent flight modes, but switch over to [S]port mode and this opens you up to a top speed of 72km/h. You will notice the attitude of the drone tilts to 45 degrees when you punch it in any direction, so it not only accelerates real quick, but it becomes super responsive if you choose to fly aggressively. It basically turns it from a refined luxury car into a Ferarri.
It's important to note that in [S]port (Ferarri) mode you don't have obstacle avoidance sensors. Also it's going to take the drone longer to slow to a stop when you let go of the sticks or try to change direction, and as the drone flies on such a steep angle, you will see props in your camera view, so it's not the best for filming. It's basically for hooning around and having fun, but you can also get yourself into trouble quicker if you're not careful.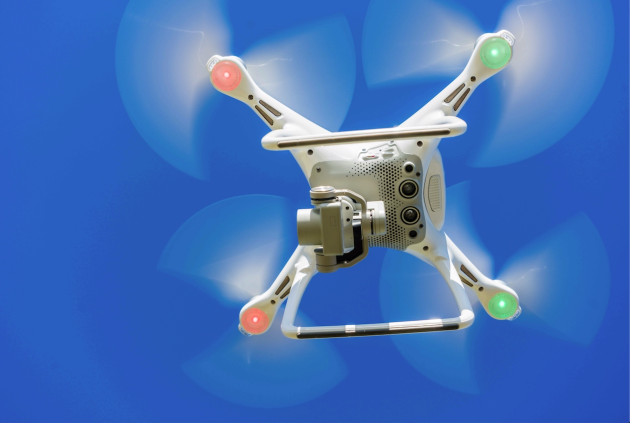 Sensors
The Phantom's VPS (Vision Positioning System) has had some upgrades, and now with dual ground imaging sensors and dual ultrasonic sensors it has far greater accuracy in stability at greater heights. Meaning in GPS deprived environments or just when you are closer to land (up to around 10m) it is far more stable. DJI says it's up to 5x more accurate in stability, and it surely feels it. Even in a decent wind the Phantom 4 is in control like no other drone in its class. Add to this, a redundant IMU and compass to avoid sensor errors, and this becomes one stable platform.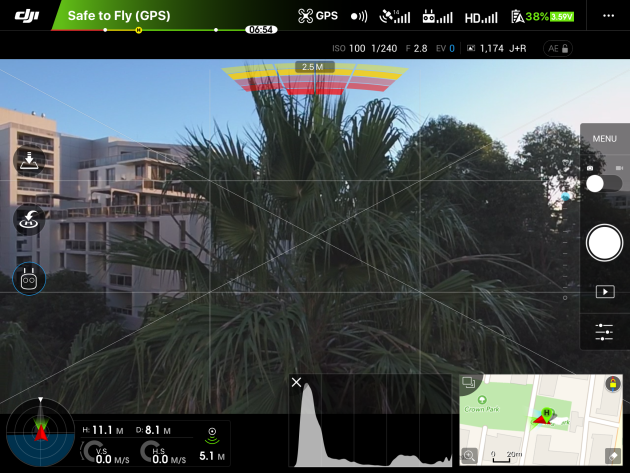 Sense and Avoid
Here's where the real game changing features lie in the Phantom 4.
DJI became the world's first manufacturer to release a production drone with Sense and Avoid tech, again trumping the competition. Intel's 3D imaging RealSense technology has been adapted to drones, and fitted to Yuneec's Typhoon H, (Intel has a stake in Yuneec) which was demonstrated earlier this year, but the Phantom 4 is the first to go on sale to the public.
Two forward-facing visual sensors create volumetric maps of the area 15 metres in front of the drone. This information is displayed at the top of your screen with bars radiating out. If an obstacle is in the path of the drone it will sense it and automatically slow down to a complete stop before. You also hear an audible beeping much like the reversing sensor in a car, which beeps faster and faster as you get closer to the object.
What's more, the sensor works in the intelligent flight modes, as well as in Return-To-Home, and can not only sense the object in its path but also move to avoid it.
It's a little unnerving when you go to test it, and fly gingerly close to trees or objects, but I was relieved to find it works really well. The only thing you need to remember is that the sensors are only forward facing, so you can still back into an object or strafe sideways into something. Either way this is a welcome feature and I look forward to when drones have these sensors on all sides. At the rate things are progressing I'm sure that won't be long.
Intelligent Flight Modes & Autonomous Flight
The AI and Autonomous flight features in the Phantom have also gone next level. I've seen similar features on other drones in the last year, but none that work as smoothly and intuitively.
TapFly
Simply tap on the screen in the direction you want to fly and you are off. The Phantom will head in that direction and with obstacle avoidance always on it will avoid obstacles too, or pull up to a stop if it can't. If you have no idea how to fly a drone you can use Tapfly to move around and know you won't fly into anything.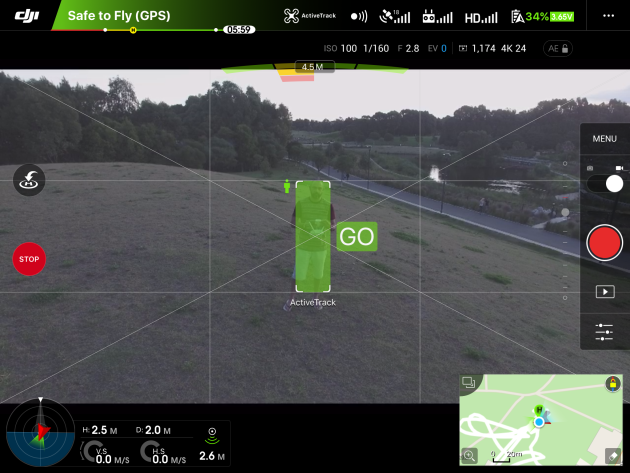 ActiveTrack
This is my favourite new feature because it works so intuitively. Once you enter ActiveTrack mode, using advanced object recognition, you are able to simply draw a box around the subject you want to track on your smart device with your finger. The object highlights with a big green box around it, you then hit the GO button that appears after the subject is identified and it will start tracking the subject.
The distance, height and direction it tracks from are all controllable from the controller sticks, while you are tracking it! This allows you to use a stick movement to start the drone rotating around the subject. It works a treat. Try doing this manually with a two-person pro rig. It's almost impossible to do a perfect orbit around a moving subject. With the Phantom 4 you can now do this in ActiveTrack by simply pushing one stick. And the camera keeps pointing directly at your subject. Camera tracking is smooth, too.
It's not 100% flawless, though. If the subject moves erratically or too quickly you can lose the lock, and the Phantom will just stop where it is till you identify it again and hit GO. I expect as time goes, updates to the algorithms and software will increase accuracy and reliability, but in my park tests it worked well.
One thing to remember: if the drone is not moving forwards, like if it is tracking from the side, or leading the subject, then you need to remember that your obstacle avoidance sensors, which are pointing in the direction of the camera, won't save the drone if it tracks into a tree.
Other Flight Modes
Phantom 4 retains flight modes from previous versions that are now standard, including:
Waypoints (plot a course and fly it automatically)
Point Of Interest (Orbit)
Follow Me
Home Lock
Course Lock
HIGHLIGHTS
Suitable for first time beginners to seasoned pros
Can virtually fly itself
Tracks moving subjects
Has collision protection
Extra long flight times
Now even faster and more agile
SPECS
Model: Phantom 4
Manufacturer: DJI
Type: Quadcopter
Width/length: 350mm
Radio control type: 2.4Ghz supplier transmitter
Battery: 5350mah 4S Lipo
Operating Range: Farther than you will ever want to fly it
Flight time: 28mins
Top speed: 72kmh
Price: $2,399.00
Where: modelflight.com.au
FLIGHT REPORT
Performance/handling
In sport mode it is a buzz to fly. It really kicks along. You would need an FPV Racing drone to beat this guy.
Flight time
Increasing flight times now to 25-28 minutes, the P4 stays in the air longer than any other production drone I've tested.
Final word
This is one smart drone. It is packed with AI and more features than anything on the market. It flies beautifully and anyone from a newbie to a pro can pick up the controls and immediately have fun with it. I cannot think of anything negative to say about it, except maybe its price tag. But if you've got the cash, look no further. Simply the most advanced and refined consumer drone available today.
(This review first appeared inbDrone Magazine Issue 3, December 2015)