Technical Editor Andy Willmott takes the Walkera Aibao for a spin.
An Augmented Reality (AR) immersive gaming FPV drone is a gamer's dream. And you know what? Walkera has made it a reality. The future is now!
The fast, lightweight and highly manoeuvrable Aibao has everything a regular medium sized drone has including a 4K / 16MP camera for regular video capture, 18 minutes of flight time with a range of 1.8km, but it has one important addition - a virtual game interface.
Once you are up in the air, you must find a clear patch of space where there are no trees or buildings, then you can enable the game mode. There are 3 different game types.
Racing Mode — a virtual aerial race track made of boxes and circles will appear on the screen and you have to fly towards them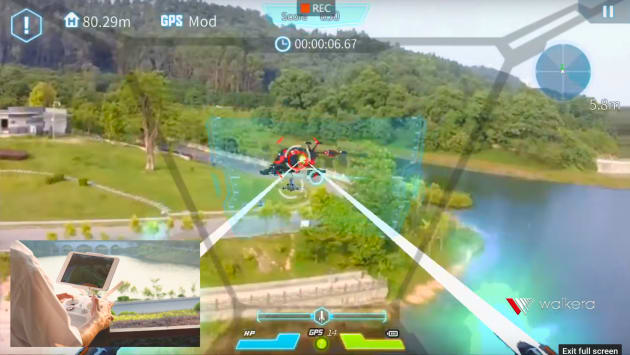 Combat Mode — powerful virtual guns and lasers are used to shoot down enemy aircrafts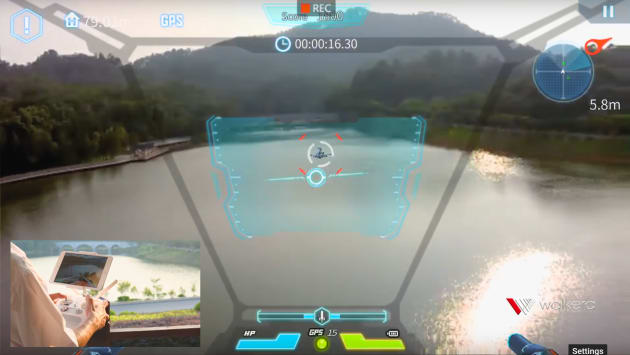 Collection Mode — a game of catching and collecting virtual gold coins
The game uses some pretty clever software to overlay graphics, both stationary targets as well as moving virtual aircraft over your live camera feed, hence the name Augmented and not Virtual Reality.
As you fly around you need to reach or chase the targets in 3D space. The software uses GPS and motion sensors to ensure 3D accuracy of the overlayed items. Y
ou can get Walkera's VR goggles for a fully immersive experience, or fly off a tablet screen, which could be somewhat safer.
As amazing as this sounds, it does raise some concerns. Flying strictly FPV, as you must to play the game, means you can't judge distances as well, and if you are focused on shooting virtual baddies out of the sky, then your situation awareness is somewhat inhibited.
The game does not allow for real life obstacles, so if you are not out in an open space, then the game could potentially invite you to fly into a tree to shoot down a virtual spaceship.
Now it might seem common sense to fly out into a clear patch of space before you start the game, but the potential for disaster is there. And I doubt if Walkera will accept any liability if the game causes you to crash the drone. Gamer beware.
Still, I look forward to taking it up and seeing how seamless the experience is. Check out the video from Walkera to see how it works in real life.
https://www.youtube.com/watch?v=z5mkH3zHUFc